Updates from Around the World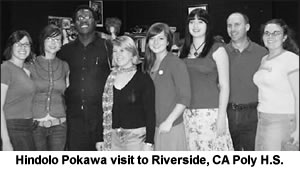 "NP Advocate Team Member Linda Dunn and the Inland Communities Chapter of the Fellowship of Reconciliation (FOR) organized a four-day speaking tour in Riverside, California with NP International Governance Counsel Member and Youth Coordinator Hindolo Pokawa in October of 2005. Hindolo spoke at Poly High School, North High School, Riverside CityCollege, and University of California Riverside about his first hand experience with brutal violence growing up in Sierra Leone and the groundbreaking work of NP in establishing nonviolent solutions for conflict resolution. The two high schools hope to sponsor joint training in nonviolence for students in 2006."
"Linda states, 'I felt a very real hunger from the students at both the high school and college level for peaceful alternatives to what is going on in our world today. They received Hindolo's message with an understanding of the courage it takes to seek peace, and I believe many saw NP as providing hope for their future.' The events raised over $7,000 for NP and increased awareness in the area. FOR-USA and International FOR, a 90-year old interfaith peace movement with branches in 40 countries on every continent, are NP member organizations."

From Nonviolent Peaceforce's newsletter Rumors of Peace, Volume VI, Issue 1, 2006.